Surgical vs Non-Surgical Eyebag Removal
Dr Y.B. Choong
Medical Aesthetics Doctor
Disclaimer:
It's important to understand that there are several treatment options available in the market which may achieve similar results from the ones listed here. This article is also not meant to suggest that the treatments we offer are the only sole or best options.
Eye bags are a common problem affecting many people. They're caused by several factors, such as ageing, genetics, lack of sleep, and lifestyle habits. Eye bags appear as puffiness or swelling around the area beneath your eyes and can make you look older and more tired than you are.
The visible skin sagging under your eyes is also known as eye bags or skin laxity. This skin laxity is due to the decreased collagen production that comes with age and other factors like exposure to sun damage or smoking. As we age, our body's natural process of producing collagen slows down which leads to loose skin in areas like the eyelids below our brows and around our eyes.
Eye bag removal is a procedure used to address the issues of loose skin and excess fat that cause eye bags and dark circles. To lessen the appearance of puffy eyebags, you can try improving your diet by eating foods high in antioxidants to reduce inflammation and swelling around the eyes, keeping hydrated by drinking plenty of water each day and ensuring you get enough rest, at least eight hours per night. If these remedies don't seem to work, you may then want to explore one of the following options.
Eye bag removal treatment can be done surgically or non-surgically, depending on the severity of the condition.
Surgical Eye Bag Removal​
Surgical eye bag removal is usually performed under local anesthesia and involves removing redundant skin, fatty tissue, and possibly muscle from around the eyes. It is typically only recommended if there is significant laxity in the skin around the eyes or severe underlying medical conditions causing puffy eye bags. Plastic surgeons will ensure that any visible scarring associated with surgery is kept minimal by using techniques such as hidden incisions and specialized closure methods to reduce post-operative scarring.
Swelling and bruising can last up to two weeks, while most patients are able to return to work within a week of the procedure. It's important to follow your surgeon's post-operative instructions carefully for optimal results.
Non-Surgical Treatments for Eye Bags
At Cienna Aesthetics, we offer a range of non-surgical procedures that can help treat eye bags and dark circles. Our experienced doctor often performs these treatments to ensure you achieve your desired results. Non-surgical eye bag removal treatments are often a good choice for mild to moderate cases of bags and dark circles.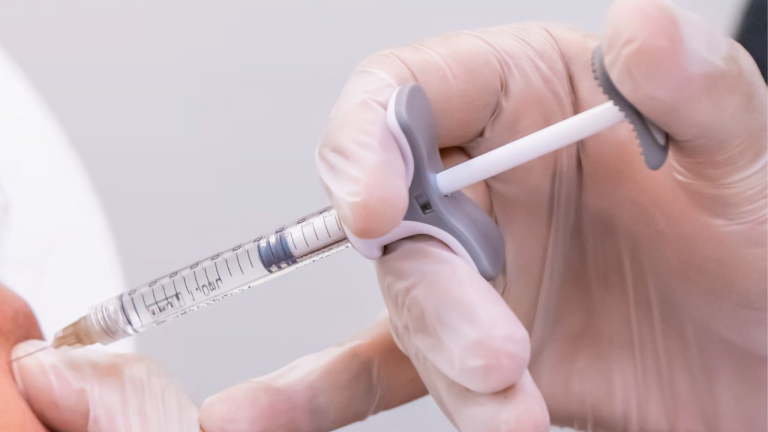 Using dermal fillers can help reduce the appearance of puffy eye bags by restoring lost volume around the eyes. The filler plumps up the skin and tightens it, making puffiness or bags less visible. The treatment is safe and effective and does not require surgery or a long recovery period. Dermal fillers provide quick and visible results in a single session. However, the duration of the effects may vary, lasting up to 12 months, depending on the product type and injection method used on your skin. Dermal fillers also hydrate and nourish your skin, improving its texture and tone. They can reduce the appearance of puffy eye bags by restoring volume to the surrounding area.
Dermal fillers can effectively and safely help reduce the visibility of puffy eyebags without downtime or major risks. The results are instant and long-lasting, leaving you with a youthful, refreshed look. If you want to reduce the appearance of your puffy eyebags, dermal fillers may be a great option for you.
2. Laser Treatment - Fotona 4D SP Dynamis Laser
We also offer laser treatments such as the Fotona 4D SP Dynamis Laser for the removal of puffy under-eye bags. Fotona SP Dynamis laser uses few different types of lasers to reduce fat deposits and tightens the skin around the eyes, thus reducing the puffy eyebags. The procedure targets and reduces fat deposits that cause puffiness around the eyes using advanced non-invasive technology. It different lasers to deliver light energy pulses that gently heat the targeted area. This heat breaks down fat cells, causing them to shrink and be naturally eliminated from the body.
The Fotona 4D SP Dynamis Laser not only reduces puffiness in the under-eye area but also improves blood circulation. Since the procedure does not involve any surgery or incisions, there is minimal discomfort and downtime required afterwards.
The Fotona 4D SP Dynamis Laser is a safe and non-invasive way to treat puffy under-eye bags and achieve a more youthful look. Results can be seen within a few days and may last for several months. Patients typically need multiple sessions to achieve optimal results.
3. High-Intensity Focused Ultrasound (HIFU) Eye Bag Treatment
HIFU is a treatment that can help reduce the appearance of puffy eye bags without any invasiveness. This method uses ultrasound energy directed at the targeted area, which results in the contraction of collagen and reduction of puffiness. This method is effective as it breaks down the fat cells resulting in reduced eye bag volume and puffiness.
At our clinic, the HIFU eye bag treatment is used to help patients achieve a refreshed and rejuvenated look. Additionally, we also give u a refreshed and less tired look with brow lift and forehead lift besides reducing the eye bags. Our experienced doctor is committed to creating a treatment plan customized to suit your unique requirements for eye bag removal. We recognize that every individual is distinct, hence we take the time to design a plan that is personalized to you and your objectives.
If you want a non-invasive way to treat eye bags in Singapore, you may want to consider HIFU. It's safe, effective, and painless. Our team at our clinic can help you achieve your eye bag removal goals safely and effectively.
4. Thermage FLX For Your Eyes
Thermage is a non-invasive treatment that harnesses the power of monopolar radiofrequency (RF) to reduce eyebags. The RF energy is able to penetrate deep into the skin, rejuvenating the septum, ligaments, and skin. By stimulating collagen production, Thermage helps to tighten and lift the skin, resulting in a firmer and more youthful appearance.
Unlike other treatments, Thermage requires only a single session, making it a convenient and efficient option for people with busy lifestyles. With minimal discomfort and no downtime, Thermage is an excellent choice for those looking for a non-invasive solution to reduce the appearance of undereye bags.
If you suffer from eye bags and dark circles, it is important to understand that there is no one-size-fits-all solution for everyone. There are several methods available to help reduce the appearance of eye bags and dark circles, so talk with your doctor or plastic surgery professional to determine which treatment plan would be best for you.
No matter what type of eye bag removal treatment you choose, make sure that you do thorough research before making any decisions. It is important to understand all of the risks associated with each method and to make sure that the doctor performing the procedure have experience in performing eye bag removal procedures and treatments.
Disclaimer:
There are other possible options available when it comes to some of these aesthetic treatments. The information and advice published on or made available through this website is for informational purposes and not intended to replace the professional advice of a trained health professional.
dark eye circles
dermal fillers
eyebag removal
eyebag treatment
eyebag treatments
Fotona 4D SP Dynamis Laser
hifu
High-Intensity Focused Ultrasound
laser treatment
Thermage FLX